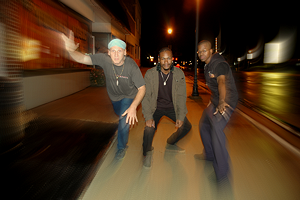 Truce, Vol. 1 available on JM Recordings and CD Baby.
With Truce, Vol. 1 Winterhawk Guitarist Jordan Macarus—long known for his intricate, and intensely expressive guitar work in the hard rock and progressive rock realms—steps out further into the space where rock, jazz, blues, the lyric and improvisation cross for a collective purpose. To facilitate this collage of styles required exceptional talent and versatility from the rest of the band: Drummer Kevin Ashford Jr. and Bassist Isaiah Webb.
Kevin Ashford Jr. began playing gospel at age 3. He then added jazz, blues, drum core, orchestral, etc… Kevin has won numerous awards for band and solo competitions. His ability to play in any time signature with dynamics and emotion is evident throughout this album. These tunes were not written to be technical, and they don't sound that way because Kevin moves from one place to another seamlessly. His style and passion are infused into every song. The Drum and Conga solo, track 14, recorded live and spontaneous, gives the listener an introduction into Kevin Ashford Jr on the drums…
Isaiah Webb began playing bass in his early teens, and learned at a ridiculously fast pace. Inspired by gospel players and jazz players like Victor Wooten and Jaco Pastorius, Isaiah's effortless playing style can be deceptive. He can play with great speed, but also with inflection, emotion and mountains of personality. Isaiah has also expanded his talents to the keyboard. He added some uniquely fresh piano tracks to "Christine," track 5. - And that only scratches the surface of what Isaiah can do on keys…
Kevin and Isaiah have been playing together as a team since 2009. Part of every JKI performance includes at least one bass and drum solo that can come from anywhere and go anywhere. Combining Kevin Ashford Jr. and Isaiah Webb with the writing, intensely passionate guitar and voice of Jordan Macarus, yields a band that is very special, and music for the world.
This album is a statement and an adventure. And every time JKI plays Live the adventure continues…
JKI: Jordan Macarus, Kevin Ashford Jr. and Isaiah Webb